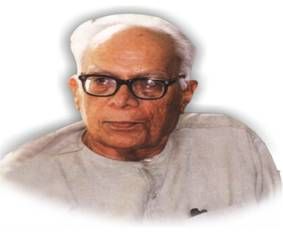 Akhtar Hameed Khan born on 15 July 1914 in Agra (British India), attended Government High School at Jalam (Uttar Pradesh), and completed his education in 1930 at Agra College where he studied English literature and history. He read English literature, history, and philosophy for a Bachelor of Arts degree at Meerut College in 1932. At that point, his mother was diagnosed with tuberculosis. She died in the same year at the age of 36. Akhtar Hameed continued his studies and was awarded a Master of Arts in English Literature from Agra University in 1934. He worked as a lecturer at Meerut College before joining the Indian Civil Service (ICS) in 1936. As part of the ICS training, he was sent to read literature and history at Magdalene College, Cambridge, England. During the stay, he developed a close friendship with Choudhary Rahmat Ali.
During his ICS career, Akhtar Hameed worked as collector of revenue, a position that brought him into regular contact with living conditions in rural areas of East Bengal. The Bengal famine of 1943 and subsequent inadequate handling of the situation by the colonial rulers led him to resign from the Indian Civil Service in 1945. He wrote, 'I realized that if I did not escape while I was young and vigorous, I will forever remain in the trap, and terminate as a bureaucratic big wig.' During this period, he was influenced by the philosophy of Nietzsche and Mashriqi, and joined the Khaksar Movement. This attachment was brief. He left the movement and turned to Sufism.  He wanted to live a life free from fear and anxiety, a calm and serene life, without turmoil and conflict. When he followed the advice of old Sufis and sages, and tried to curb his greed, his pride and aggression, fears, anxieties and conflict diminished.
The next two years, he worked in Mamoola village near Aligarh as a labourer and locksmith, an experience that provided him with firsthand knowledge of the problems and issues of rural communities. In 1947, he took up a teaching position at the Jamia Millia, Delhi, where he worked for three years. In 1950, Akhtar Hameed Khan migrated to Pakistan to teach at Islamia College, Karachi. In the same year, he was invited by the Government of Pakistan to take charge as Principal of Comilla Victoria College in East Pakistan, a position he held until 1958. During this time (1950–58) he also served as President of the East Pakistan Non-Government Teachers' Association.
During his tenure as principal of Comilla Victoria College, Akhtar Hameed developed a special interest in grassroots actions. Between 1954 and 1955, he took a break to work as director of the Village Agricultural and Industrial Development (Village-AID) Programme. However, he was not satisfied with the development approach adopted in the programme that was limited to the training of villagers. In 1958, he went to Michigan State University to acquire education and training in rural development. Returning in 1959, he established the Pakistan Academy for Rural Development (PARD) at Comilla on 27 May 1959 and was appointed as its founding director. He also laid foundations for the Comilla Co-operative Pilot Project in 1959.
In 1963, he received a Ramon Magsaysay Award from the Government of the Philippines for his services in rural development. Akhtar Hameed Khan became Vice-chairman of the board of Governors of PARD in 1964, and in the same year, he was awarded an honorary Doctorate of law by Michigan State University. In 1969, he delivered a series of lectures at Woodrow Wilson School, Princeton University, based on his experience with rural co-operatives. During the visit, he established collaborative links with Arthur Lewis.
On his return to East Pakistan, Akhtar Hameed remained attached to the Comilla Project until 1971 when East Pakistan became Bangladesh. Following his move to Pakistan, Akhtar Hameed Khan was asked to implement the Comilla Model in rural settlements of North-West Frontier Province (now Khyber Pakhtunkhwa), Punjab, and Sindh. He declined the offer on the grounds that the proposals were predominantly motivated by political interests rather than the common well-being. However, he continued to advise the authorities on various aspects of rural development, such as participatory irrigation management. He worked as a research fellow at the University of Agriculture, Faisalabad from 1971 to 1972, and as Director of Rural Economics Research Project at Karachi University from 1972 to 1973.
Akhtar Hameed Khan went to Michigan State University as a visiting professor in 1973 and remained there until 1979. During this time, he carried on advising the Rural Development Academy at Bogra in northern Bangladesh, and the Pakistan Academy for Rural Development, Peshawar, on the Daudzai Integrated Rural Development Programme. He also traveled extensively during this period in the capacities of speaker, advisor, or consultant on rural development programmes across the world. In 1974, he was appointed as a World Bank consultant to survey rural development situations in Java, Indonesia. He also briefly worked as a visiting professor at Lund University, Harvard University, and Oxford University.
In 1980, Akhtar Hameed moved to Karachi and started working on the improvement of sanitary conditions in Karachi suburbs. He laid the foundations of the Orangi Pilot Project (OPP) for the largest squatter community of Orangi in the city. He maintained his support for rural communities around Karachi, and also helped to develop the Agha Khan Rural Support programme. OPP became a model for participatory bottom-up development initiatives.
Akhtar Hameed Khan received the following civil awards:
Jinnah Award (Posthumous, 2004) for services to people as founder of the Orangi Pilot Project.

Nishan-e-Imtiaz (Posthumous, 2001) for services to the community.

Ramon Magsaysay Award (31 August 1963, Manila, Philippines) for services to rural development.

Sitara-e-Pakistan (1961) for pioneering work in rural development.
Akhtar Hameed was fluent in Arabic, Bengali, English, Hindi, Pali, Persian, and Urdu. He wrote several reports and monographs, mostly relating to rural development in general or his various successful and model initiatives in particular. He also published collections of poems and travelogues in Urdu.
In 1999, Akhtar Hameed Khan was visiting his family in the United States when he suffered from kidney failure. He died of myocardial infarction on 9 October in Indianapolis at the age of 85. His body was flown to Karachi on 15 October, where he was buried on the grounds of the OPP office compound.
[Akhtar Hameed's ideology and leadership skills were a source of inspiration for his students and colleagues, and continue to serve as guiding principles even after his death. Edgar Owens, who became an admirer of his ideology while working at USAID's Asia Bureau, co-authored a book with Robert Shaw as a result of observations and discussions with Akhtar Hameed Khan at Comilla Academy. A later study of various rural development experiences from South Asia, edited by Uphoff and Cambell (1983) was jointly dedicated to Akhtar Hameed Khan and Owens.
On 10 April 2000, the Government of Pakistan renamed the National Centre for Rural Development the Akhtar Hameed Khan National Centre for Rural Development and Municipal Administration. In the same year, the Akhtar Hameed Khan Resource Centre was established in Islamabad, under the auspices of the Institute of Rural Management, as a repository of published and digital resources on rural development.
In 2005, the Council of Social Sciences, Pakistan, in collaboration with the National Rural Support Programme and other institutions, announced the Akhtar Hameed Khan Memorial Award. The annual cash award is given on Akhtar Hameed Khan's birthday to a Pakistani author for a book on issues related to rural and urban development, peace, poverty alleviation, or gender discrimination. At the occasion of the award ceremony in 2006, a documentary film about the life and times of Akhtar Hameed Khan was premiered. The film includes archival footage and interviews with family members, colleagues, and contributors and beneficiaries of the Comilla and OPP projects.